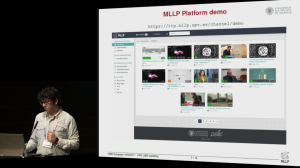 The MLLP delivered a presentation on automatic multilingual subtitling of MOOCs and OER at the 2nd World OER Congress under the patronage of UNESCO (Ljubljana, Slovenia, 18–20 September 2017). Read here all about it.
The 2nd World OER Congress, organized by UNESCO in Ljubljana (Slovenia) on 18–20 September 2017, has brought together delegates including representatives of Government, educators, NGOs, OER experts, and universities. It has highlighted ways in which OER are serving as tools for collaboration and the creation of learning resources, emphasized the importance of using OER as a means to broaden access to inclusive and equitable quality education, and showcased innovative policies and initiatives to enhance the potential of OER.
The MLLP was invited by the organizers to participate in the congress' satellite event "Artificial Intelligence: Research, Technology and Business in OER". This morning, MLLP member Gonçal Garcés Díaz-Munío delivered in Ljubljana the presentation "Integrating subtitling and translation into MOOCs and OER repositories with UPV tools". The presentation was part of the session "OER for Inclusion and Multilingualism", next to the presentations by Jernej Pikalo, former Ministry of Education of Slovenia, and Richard Tibbles from the US nonprofit Learning Equality.
The presentation was recorded and will be available for watching at VideoLectures.NET. We will update this news post with the link after the video is made available.
We would like to thank the organizers of the AI satellite at this 2nd World OER Congress, Knowledge for All Foundation and Pošta Slovenije, for this occasion to debate the growing importance of language technologies for open education.